I am what you would call obsessed with the color turquoise. I want everything I own to be turquoise. (Even my blog has turquoise accents!) I know that it can't be, otherwise I would look weird, but I try to incorporate it into most of my everyday outfits. Like these sandals I recently got at Target:
Porch loungin' in summer shoes in March.
But all I REALLY want it to paint a wall in my house turquoise. Just one wall. Is that so much to ask? Apparently it is, because Andy said no. Last night we were hanging out with our neighbors (cool neighbors, not
neck tattoo neighbors
) in their backyard around their fire pit and they invited us in to see their newly finished basement. Guess what color their new laundry room is? Yep, the most beautiful shade of turquoise. Liz (neighbor) said that she didn't let Andrew (husband) have a say. Does it work that way? Can I just paint and not let Andy have a say? (Hi Andy, I know you read my blog. I swear this is all hypothetical...)
Because I have DREAMS people. Dreams of a turquoise office. I'm going to be in school for another year-ish, and I want it to be pretty in there while I study. Right now it's just a hodge podge of all my leftover stuff from apartments past plus a desk I bought at Walmart for $20. Big spender over here.
I want to paint the room white or light gray with an accent wall. The third one from the right.
With some sort of fabulous chandelier, you know?
With an amazing desk that I can get SO much work done on. Maybe a bit darker than this one.
And these curtains? They BELONG in my house.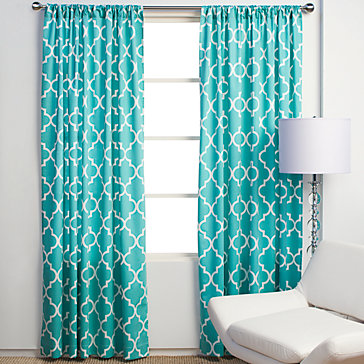 With a beautiful rug to tie the room together. (That rug really tied the room together. Big Lebowski anyone?)
Now that would probably be turquoise overkill... but really all I'm asking for is a wall. With some paint. That happens to be turquoise.
Are you currently obsessed with any colors? Do you have a turquoise wall (or nine) in your house? I want to see!