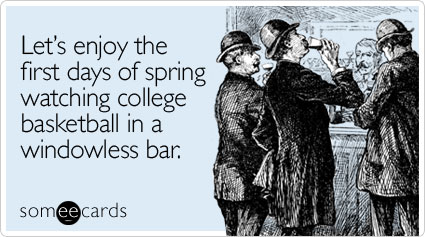 Well. It's March Madness at the Bungalow. Which means I am spending a lot of time in my office being completely ignored by Andy, who is so transfixed by the TV that I pretty much have to hit him to get his attention. Creighton plays today at 12:40, so we are taking a half day at work to go watch it with some family and friends. I saw two blue jays in the tree in our front yard last night, so hopefully that's good luck!
This song
has been stuck in my head all week. At least it's a good one and not Rebecca Black's Friday like last week.
A little late on the bandwagon, but I thought
this
was hilarious. All of it is so, so true. It was filmed in my neighborhood, so that's cool too.
These
hair ties
are to die for. I wear my hair up a lot so having some pretty hair ties would be nice.
I've been doing a bad thing lately. I have been using disposable cups every morning for my coffee. I bought
one of these
to reduce the crazy numbers of paper cups with plastic lids that I've been dumping in landfills for the past few months. Andy has one in black, so we can be kind of matching. He loves that (not).
Have you guys tried green smoothies yet? I think we are going to get the stuff to start doing them this weekend. Mandy over at Harper's Happenings
posted an awesome kid-approved recipe
.
I am really
loving the neon trend
right now. I just wish I was brave enough to wear it. Maybe I'll get a few cheap things at Target to ease myself in.
So we all know by now about my
healthy eating kick
. But there's one craving I just can't kick. Cupcakes. Specifically, tiramisu cupcakes. I saw
this recipe
and nearly died.
I have a thing for pugs. Andy had one, but I am highly allergic so he now lives with Andy's brother.
This ring is awesome
.
I have a ton of boring bamboo utensils that I want to spice up. What
a perfect
(and cheap!) way to do it.
We need new bedding badly. This
chevron duvet
is amazing.
Any links you were lovin' this week? Who are you cheering for in the tournament? Even if you don't say Creighton, we can still be friends.